Updating Book Info Metadata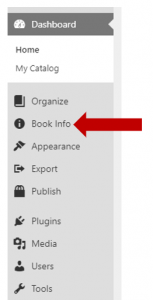 Before publishing your work, be sure to review and update the information in the Book Info section in the left side menu of Pressbooks (visible to book administrators when logged in). This information communicates to readers what your book is about, will make it more discover-able to search engines, conveys copyright information, and ensures contributors receive credit.
The following overview provides guidance and recommendations on required elements to include in the Book Info section.
Title: Enter the Title of Your Work in Title Case.
*If your work has a subtitle, enter it below in the Subtitle field, also in title case.
Authors: Enter each of the authors of the work. It is common to list authors according to who contributed most to the work. To add authors, you must first add them as a User in the User section in the left side administrator menu.
Other contributors: Be sure to list Editors, Translators, Reviewers, Illustrators, and other Contributors as appropriate. Each of these people must first be added to the User section in the left side administrator menu.
Publisher: Enter MacEwan Open Books
Publisher City: Enter Edmonton
Publication Date: Enter the date the work is published.
Book ISBN & Digital Object Identifier (DOI): Leave blank. MacEwan Open Books administrators will update this information as appropriate when making the work public.
Language: Select the language that the work is in.
Cover image: Upload an image for your book cover (see: Creating and Uploading a Book Cover).
Copyright
Copyright Year: Enter the year of publication.
Copyright Holder: This is typically the author(s). When publishing with MacEwan Open Books, authors retain copyright.
Copyright License: Select a Creative Commons license that allows for reuse and adaptation by others (CC-BY, CC-BY-NC, CC-BY-SA, or CC-BY-NC-SA).

We encourage CC BY-NC when possible.

Copyright Notice: In addition to selecting a Copyright License as noted above, we recommend adding a preferred citation for your work that will also appear on the main information page about your open textbook:

Please cite this work as follows: [add citation including MacEwan Open Books as the publisher]
Short Description: Enter a short paragraph about your book, including things like what it's about and its intended audience. This paragraph will appear near the top of the main web page for your book and may be used to describe your book in Library catalogues, in book reviews, etc.
Long Description: Enter a longer, full description of your book. This will appear near the bottom of the main web page for your book in Pressbooks, and on the back of your book if you generate a PDF cover for print copies.
Keywords: Enter 3-5 keywords describing your work to help search engines find it. Click "+Add New" for each new keyword entered.
---
Note: To indicate authors for specific chapters, add these contributors to the Users section of the left side bar, and then include their names in the Chapter Author(s) section at the bottom of the page when editing that chapter.